Our Ultimate Guide to Girl's Cotton Dresses
At La Coqueta Kids, we believe that every little girl deserves to feel like a princess in her own right. Our exquisite collection of 100% girl's cotton dresses embodies timeless elegance and unmatched comfort.
As a luxury Spanish children's brand, we take pride in offering high-quality garments that reflect the spirit of childhood innocence, proudly crafted by artisans in small family-owned ateliers that have been specialising in age-old techniques for generations. In this comprehensive guide, we explore the wonders of girls' cotton dresses and the pros and cons of cotton fabric, while showcasing some of the finest pieces from our latest collection. Each of our girl's cotton dresses is designed in-house by Founder, Creative Director, and mother of five Celia Muñoz, inspired by the styles she grew up with in her native Granada.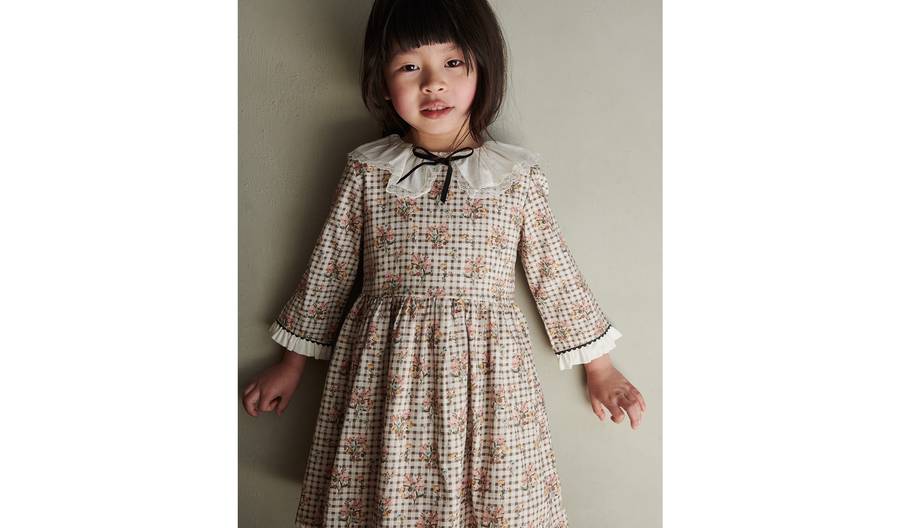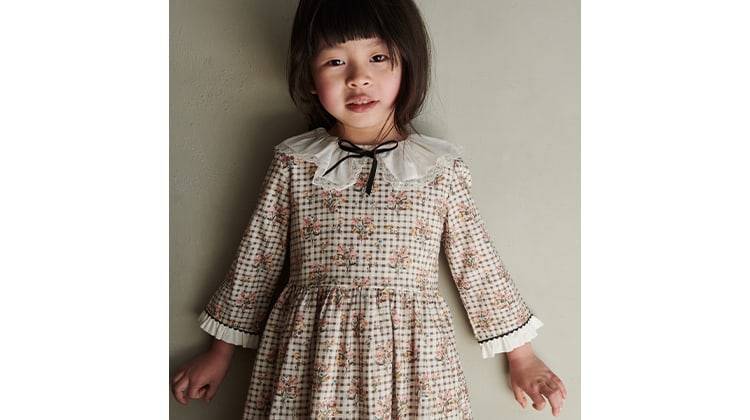 Why choose cotton dresses for girls?
Cotton has long been cherished for its softness, breathability, and natural appeal, making it an ideal choice for girls' dresses. Little ones are incredibly active and need clothing that suits their on-the-go lifestyle, ensuring they keep cool and comfortable on every adventure. La Coqueta's collections focus on a range of natural and breathable materials, and our girls' cotton dresses come in an array of designs, patterns, and colours that cater to every taste, from classic to contemporary. Whether it's a casual day at the park or a special occasion, La Coqueta's 100% cotton girl dresses offer unparalleled comfort and style, allowing your little one to explore the world with ease.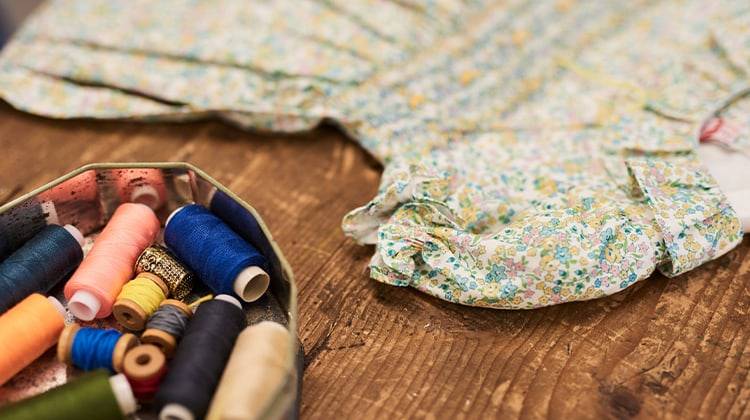 The Pros of Cotton Fabric:
Cotton is a natural fibre with numerous advantages that make it a preferred choice for kids' clothing, especially for dresses. Here are some of the key pros of cotton fabric:
Softness and Comfort: Cotton is renowned for its exceptional softness, ensuring that your child remains cosy and comfortable throughout the day. Its natural fibres are gentle on delicate skin, making it suitable even for those with sensitive skin.
Breathability: One of the greatest advantages of cotton is its breathability. It allows air to circulate freely, preventing your little one from feeling too hot or sweaty, particularly during warmer months.
Hypoallergenic: Cotton is hypoallergenic, which means it is less likely to cause allergies or irritations. This makes it a safe and reliable choice for children's clothing.
Easy to Clean: Cotton is easy to care for and can withstand frequent washing, making it a practical choice for kid's clothing. La Coqueta's girls' cotton dresses are designed to withstand the rigours of daily play and adventures.
Versatility: From casual day jersey dresses to elegant party outfits, cotton dresses are incredibly versatile. They can be dressed up or down depending on the occasion, making them a wardrobe essential for your little girl.
Environmentally Friendly: As a natural fibre, cotton is biodegradable, making it an environmentally friendly choice for conscious parents.
The Cons of Cotton Fabric:
While cotton offers numerous benefits, it's essential to be aware of its drawbacks as well:
Prone to Wrinkling: Cotton fabrics are more prone to wrinkling compared to synthetic fabrics. However, this can be managed with proper care and ironing. Be sure to check out our
Shrinkage: Cotton clothing may experience some shrinkage after washing, especially if not cared for properly. We recommend following the care instructions to maintain the integrity of our girl's cotton dresses.
Absorbs Moisture: While cotton's breathability is an advantage, it can also absorb moisture, which may lead to staining if not promptly treated.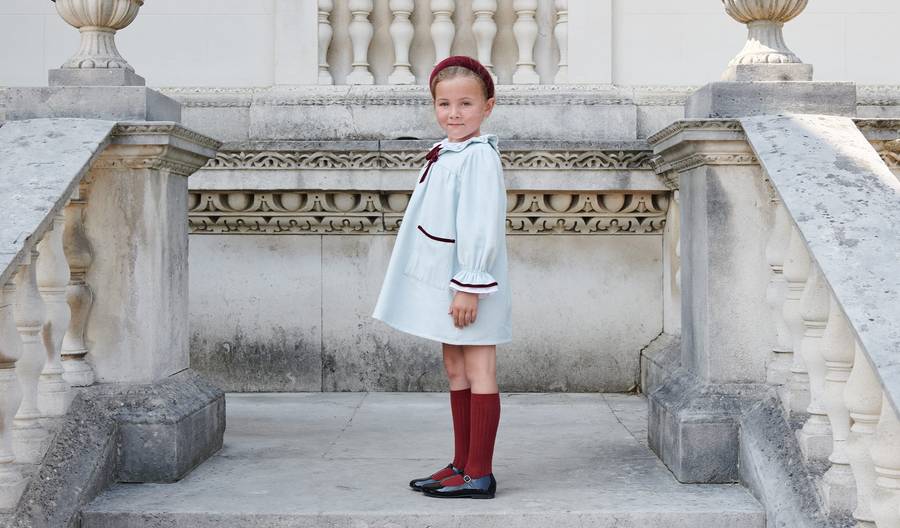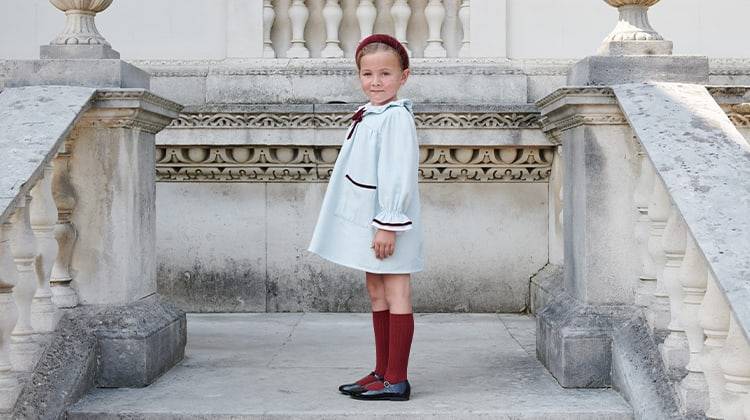 Exploring the La Coqueta Kids Girls' Cotton Dresses Collection:
Let's delve into our enchanting collection of girls' cotton dresses, crafted with love and attention to detail, to bring out the best in your little princess: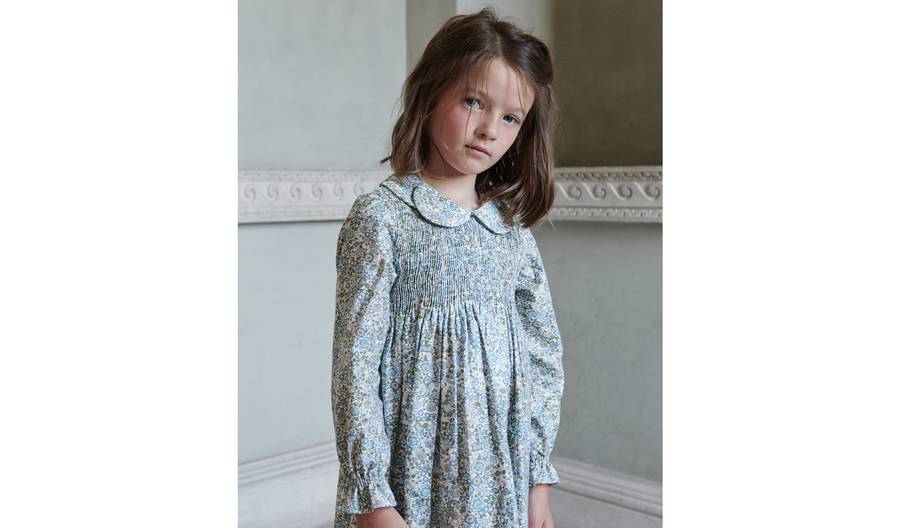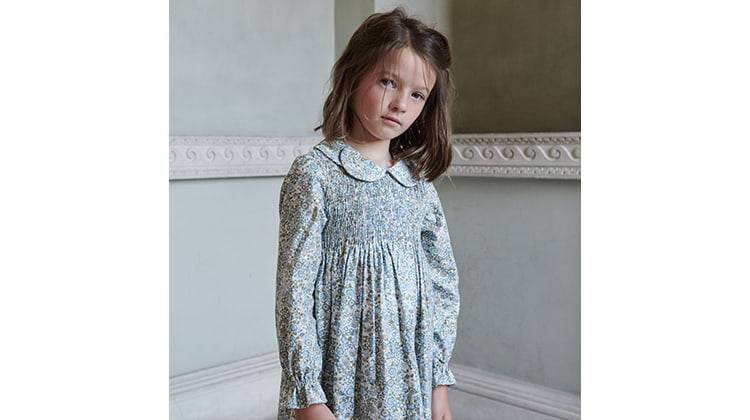 Blue Floral Valia Cotton Girl Smock Dress
La Coqueta's
Valia Girl Smock Dress
is such a feminine choice for colder climates, crafted from pure cotton that is printed with an enchanting watercolour floral print in sweet shades of pastel blue, olive green and blush pink. The shirred bodice gives way to a long floaty skirt, with long blouson sleeves that are gathered at the cuff for a voluminous effect. Finished with a scalloped Peter Pan collar, mother of pearl buttons to fasten and pure cotton lining, this is a dress that focuses on the finer details. The airy silhouette ensures maximum comfort, and the charming floral patterns add a touch of whimsy to your child's ensemble.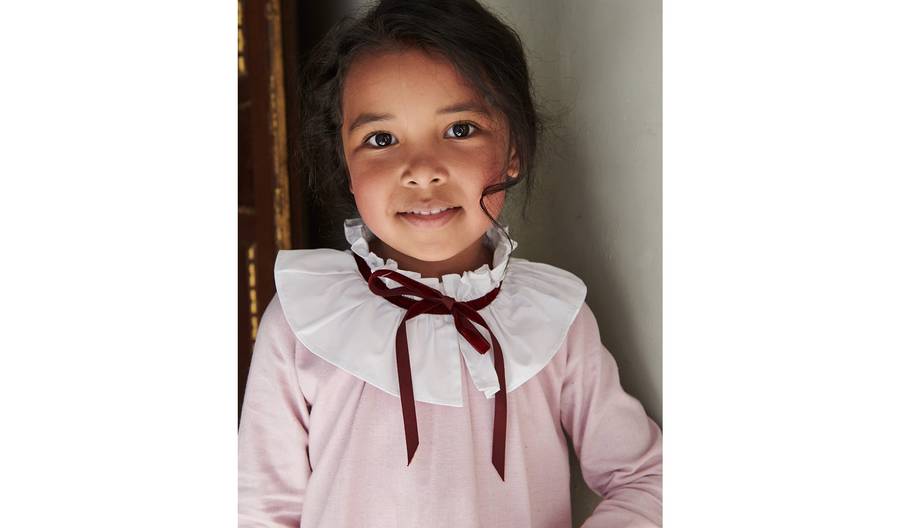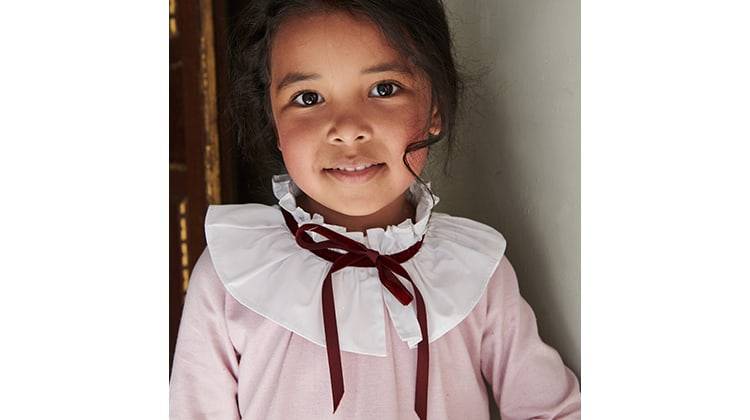 The Pink Odisea Cotton Girl A-Line Dress
For a classic and timeless look, the
Odisea Cotton Girl Dress
is an ideal choice. This vintage-inspired dress is our favourite A-line silhouette, crafted from pure cotton in a sweet shade of baby pink. It has a self-tie bow around the contrasting white cotton peasant collar neckline for that final La Coqueta touch. A soft floaty shape with blouson three-quarter sleeves, it buttons up at the back with mother of pearl buttons.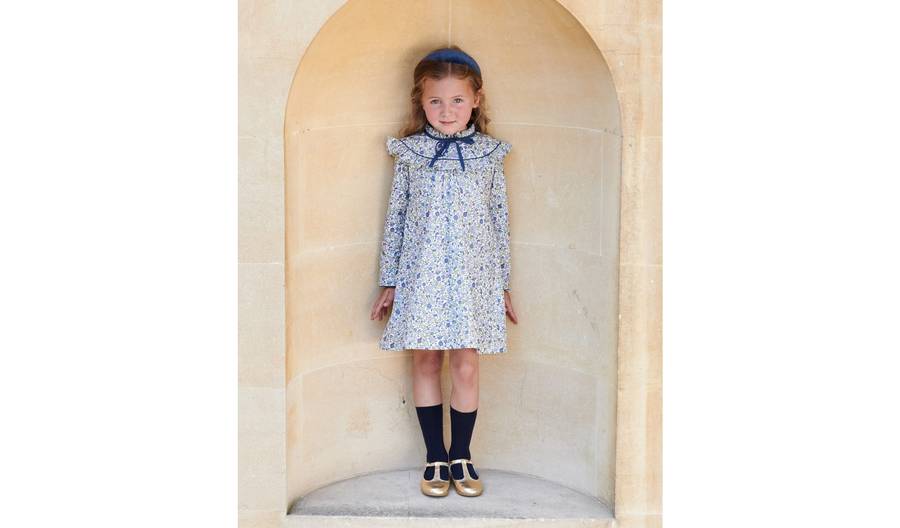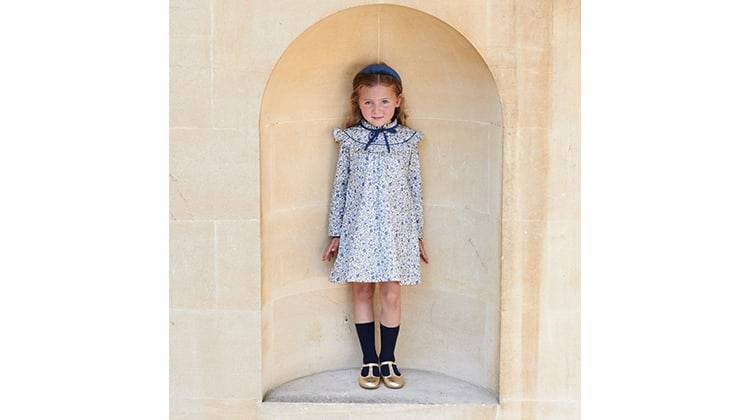 Purple Floral Mirta Cotton Girl A-Line Dress
The
Mirta Cotton Girl's Dress
exudes elegance and sophistication with its stunning hand-painted florals in shades of periwinkle, lilac, and soft lime green. It has an oversized Puritan collar encased with pleated trims, contrasting indigo-blue piping details and a self-tie bow around the neck. A soft floaty shape with blouson three-quarter sleeves, this enchanting piece is made from high-quality pure cotton, offering breathability and comfort for all-day wear. Perfect for special occasions and celebrations, the Mirta dress will make your little one feel like a true princess.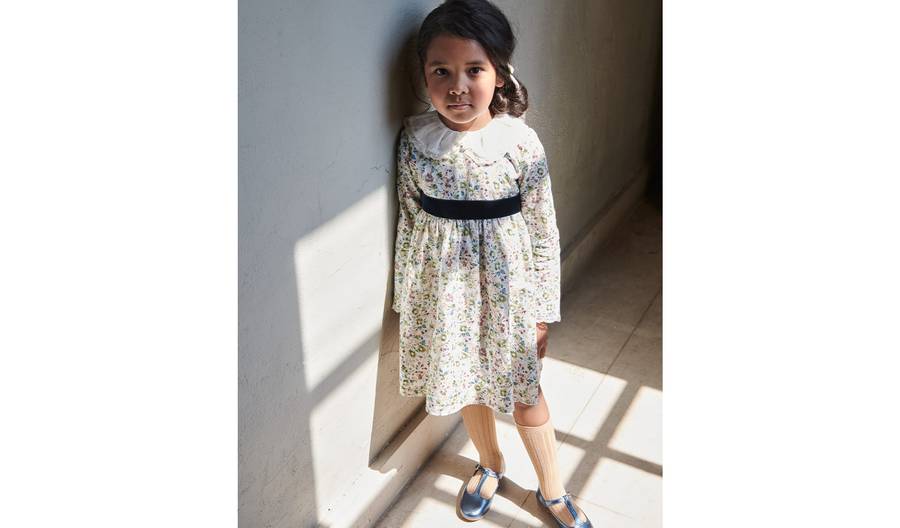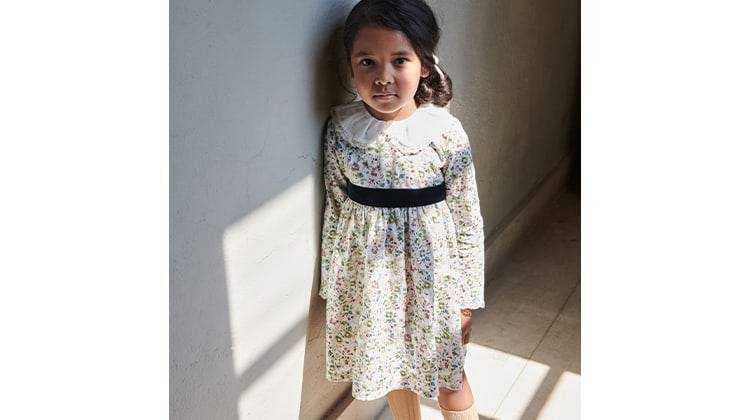 Helena Cotton Girl Dress
The
Helena Cotton Girl Dress
is a delightful blend of simplicity and charm. Its fit-and-flare silhouette gives way to a cinched waist and flowy skirt, decorated with a wide-panel velvet ribbon in navy that ties at the back, a Peter pan collar trimmed with delicate French lace and long sleeves with lace finishes. The timeless design makes it a versatile choice for various events, crafted from soft cotton fabric and ensuring your child stays at ease while looking effortlessly stylish.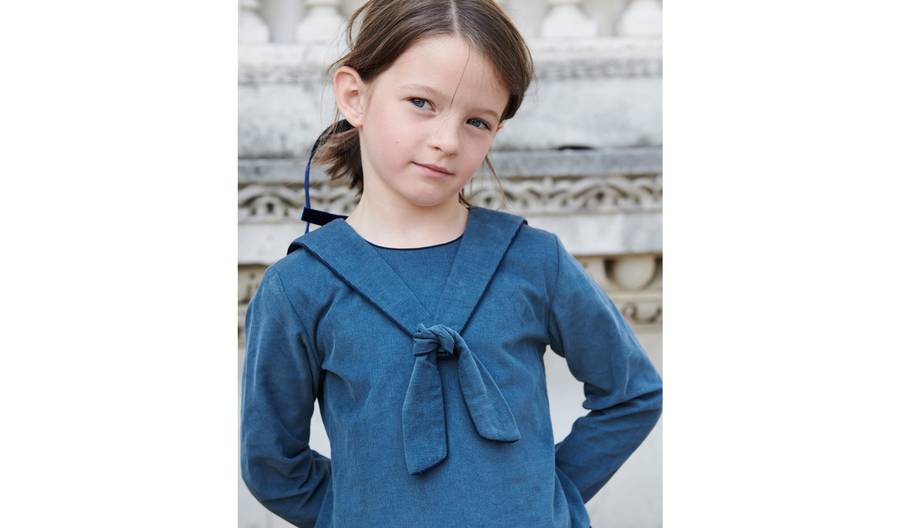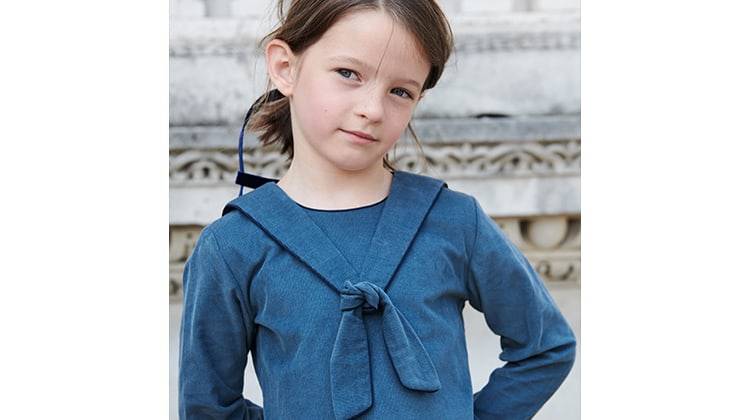 Dusty Blue Aranda Girl Sailor Dress
The
Aranda Sailor Cotton Girl Dress
is a picture of playful elegance, a bolder interpretation of the nautical aesthetic, it features long sleeves, a drop waist traced with piping and a floaty skirt, finished with a sailor collar. Crafted from pure cotton, this dress is both adorable and comfortable, allowing your little girl to enjoy her day to the fullest. Fully lined in pure cotton for extra comfort, it fastens at the back with signature mother of pearl buttons. A school-friendly design that will see your little girl throughout the seasons, this is an investment she will cherish.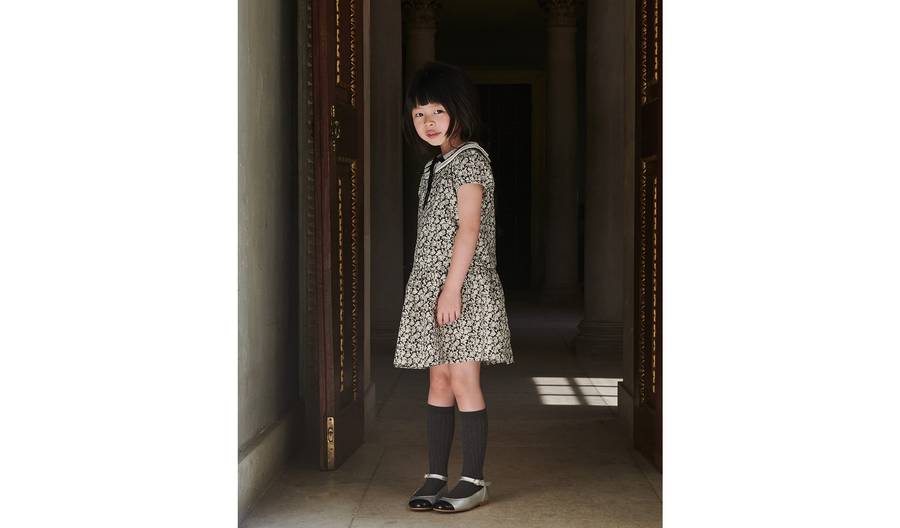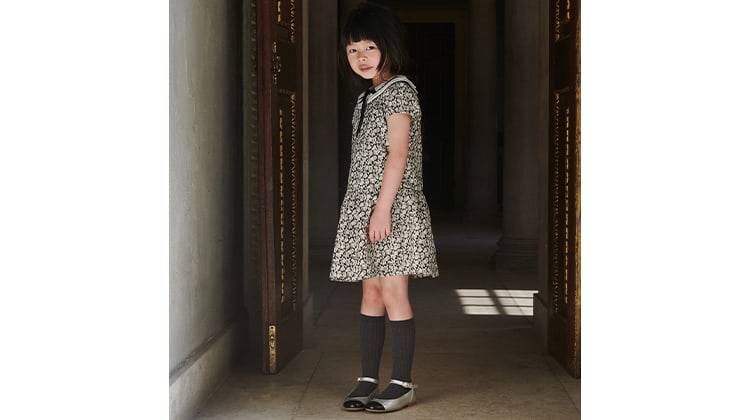 Xana Cotton Girl Dress
The
Xana Cotton Girl Dress
embodies timeless beauty with its delicate floral embroidery and soft cotton fabric. The monochromatic floral print and drop waist silhouette are perfect for dressing up or down depending on the occasion, and it has a charming contrasting collar in soft white cotton, laced with black ric rac trims and a statement black velvet bow tie at the neck. Perfect for party season, it is fully lined with pure cotton for sheer comfort come day or night.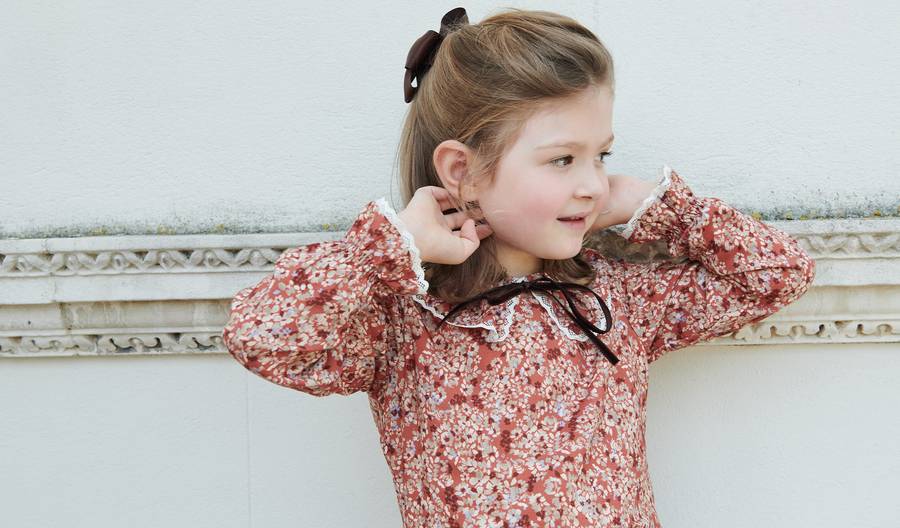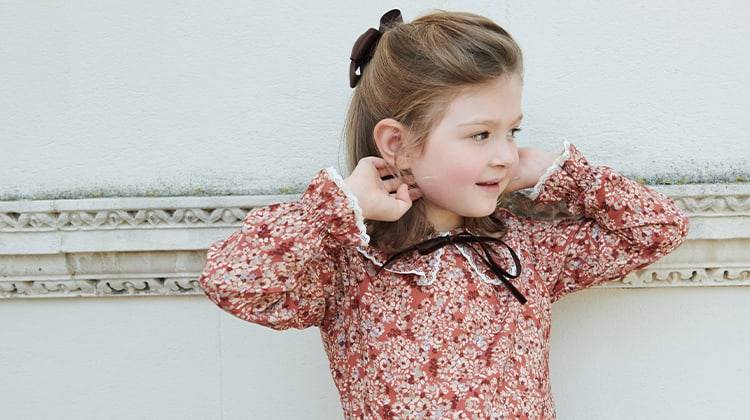 Tips for Caring for Girl's Cotton Dresses:
Follow Care Instructions: Always follow the care instructions provided with the garment. Washing and ironing at the recommended settings will help retain the quality of the cotton fabric. Read our
Care Guide
online for more help.
Pre-treat Stains: Address stains promptly by pre-treating the affected area before washing.
Ironing: Iron cotton dresses inside out to avoid direct contact with the fabric and use a medium heat setting to minimise the risk of damage.
Storage: Store cotton dresses in a cool, dry place to prevent moisture or mildew.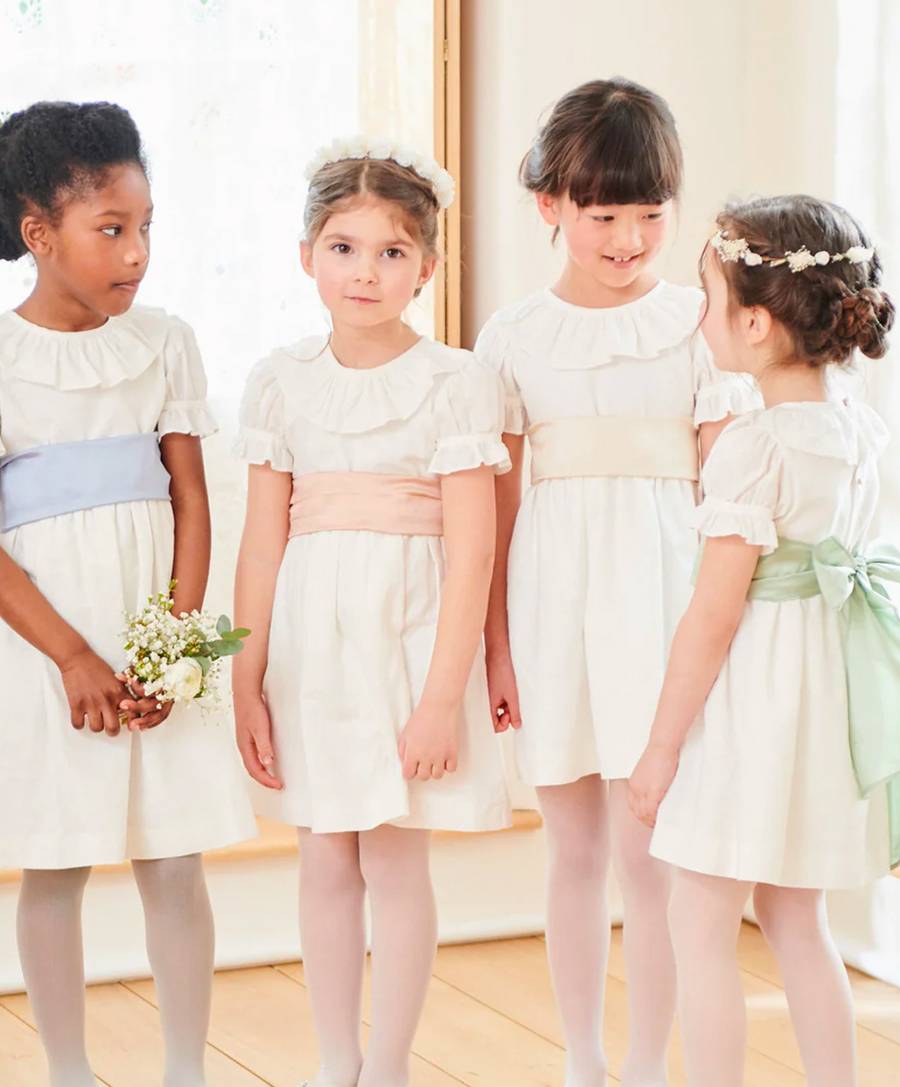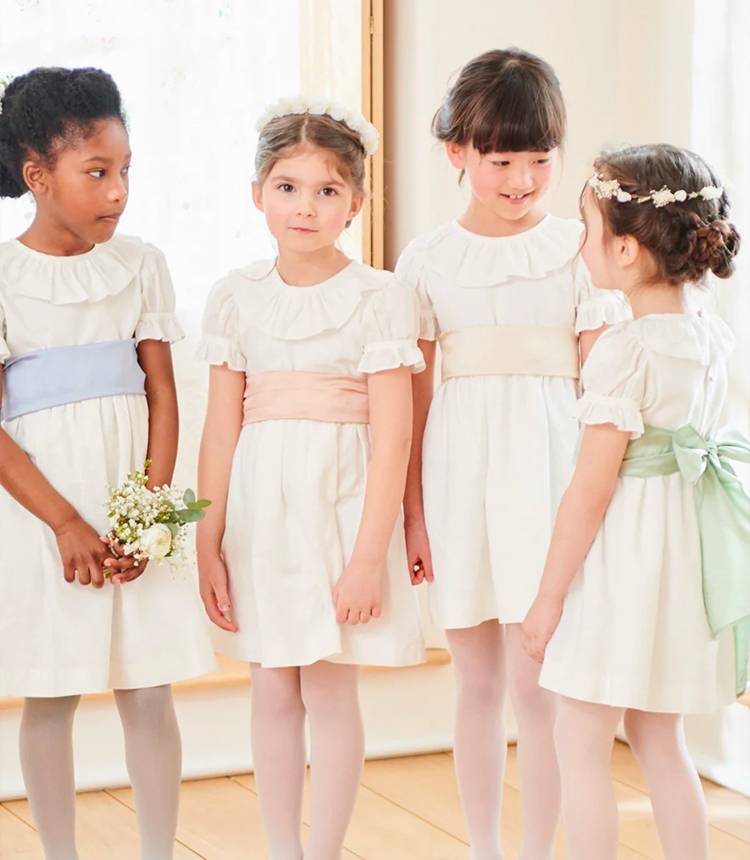 Celebrate Childhood with La Coqueta Girls' Cotton Dresses:
Embrace the beauty of timeless elegance and the unparalleled comfort of cotton fabric with La Coqueta's enchanting collection of girls' cotton dresses. With our meticulously crafted designs and dedication to quality, our girl's cotton dresses are perfect for all occasions, ensuring your child feels like a true princess with every wear. Trust La Coqueta Kids to curate a wardrobe that encapsulates the joy and wonder of childhood, with the finest luxury Spanish Kidswear that exceeds expectations. Discover the magic of girls' cotton dresses with La Coqueta Kids and create cherished memories that last a lifetime. Shop the latest collection online and in-store, and pair them with La Coqueta's signature Girl Mary Janes and Nappa leather Girl T-Bar Shoes for a timeless outfit this season.
Share this article
Share