Cooking With Children With Skye McAlpine
One of the most rewarding activities to share with our kids, cooking gets everybody involved and keeps little hands busy. More than just preparing food, cooking with children is a wonderful opportunity to teach the younger ones about the rewards of creating their own meals, discovering new ingredients and enjoying family quality time in a fun way. Celia met with friend Skye McAlpine from From My Dining Table for a fun day of cooking with their kids. The children had the most incredible time in the garden, preparing delicious meals and later tasting it all at the table. We asked Celia and Skye about the day and how the idea was born.
How can you make cooking relevant and engaging for children of all ages?
S: I think it's mostly about what you cook - I always say that I love to cook because I love to eat, and I think it is no different for children. I find that if the children are excited to eat something - they tend to really enjoy making it too. And I think that is the case for all ages. I remember when I was a child, what I loved most about baking with my mother was that she would let me lick the mixing bowl and spoon clean after the cake went into the oven. Recipes like this salted honey ice cream are great because you can taste them as you go along - and that becomes part of the fun. Taste and flavours are a huge part of what makes cooking fun.
C: I find cooking with children always works best when they have to prepare and lay out the ingredients before starting to cook. In this way, they learn about the process of making a meal. In our case, we have a vegetable garden so for them to pick their own vegetables to do a salad adds a lot of interest and for some reason they seem to taste a lot better! What engages my children the most is when there is something such as picking, or cutting with a sharp knife as it makes them feel extremely grown up and appreciated. I personally find it very helpful that they can wash and cut vegetables while I do other things.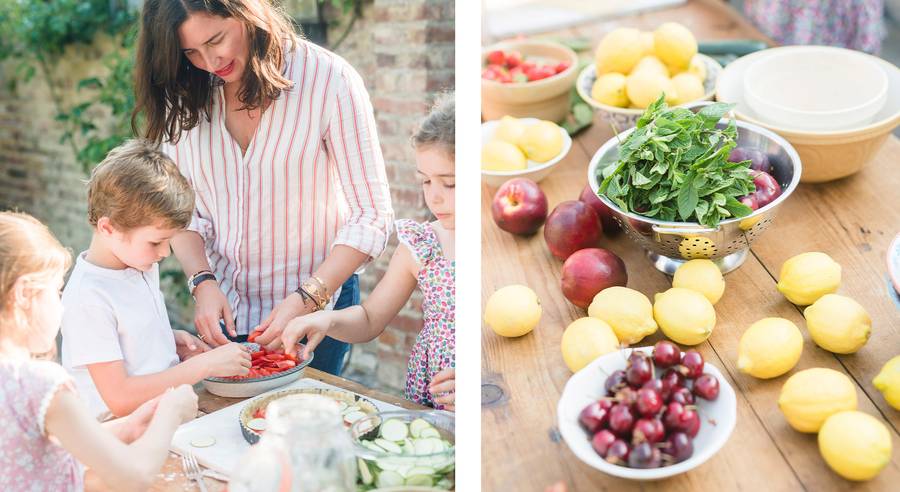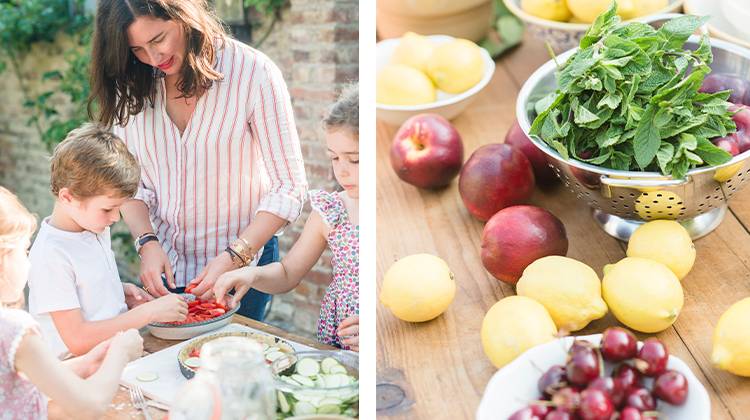 Why is it important for children to see what goes into their food and how it is put together?
S: Cooking is something that growing up I did with my mother - just like eating, cooking is a social, family activity. I am mindful that it is important for me to cook with my son, Aeneas, because I want him to learn that food isn't just nourishment for the body - there is so much more to it. It is nourishment for the soul, it is memories and nostalgia - and cooking and eating together as a family is a huge part of that.
C: We live in a world where, everything through the eyes of a child living in the city, comes out of a supermarket. When I was little, I saw cows being milked, fruits being picked, wine being made… Living in London makes these things that used to be part of my daily life a little bit more challenging, although not impossible if you really want them to see. I find it paramount for my children to know where food comes from so that they get to appreciate the goodness and importance of using fresh ingredients a lot more.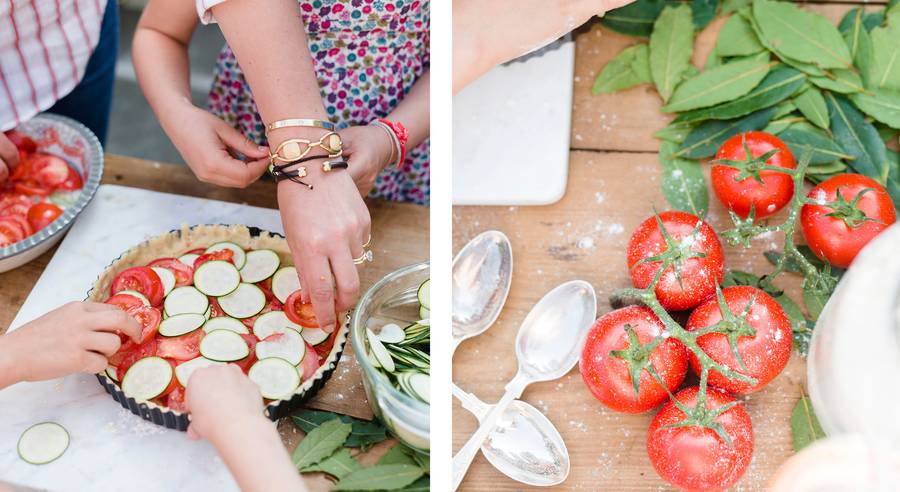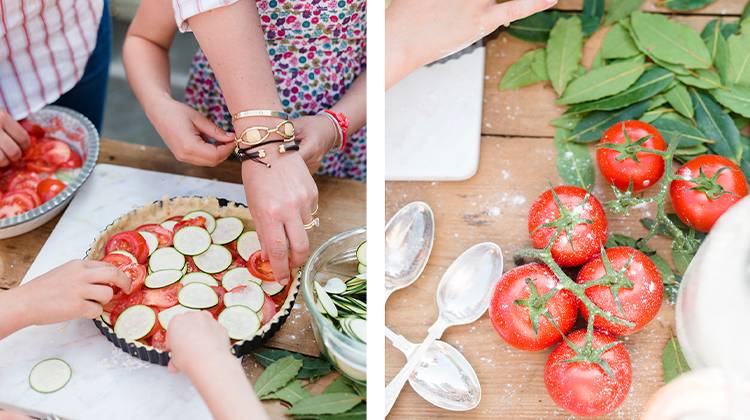 What are the ideal things to bake & cook with children?
S: I find that hands-on cooking works well- so making pastry where you knead the ingredients together with your hands and roll it out, or preparing fresh pasta dough, for example, are great for cooking with children. Recipes where the children can get their hands dirty are great - as are very simple recipes where you can hand them the ingredients and let them take the lead.
C: My children love baking tarts, as they can experiment with the fillings and add ingredients by themselves. They love to wash, cut, chop and very often taste what they are making as they go, reducing considerably the expected portions. My husband and I love seeing their little faces of delight when cooking something they really like. They stare at the food and can't help but touch it, put the finger in it and lick it as if it was the first time they had tried it.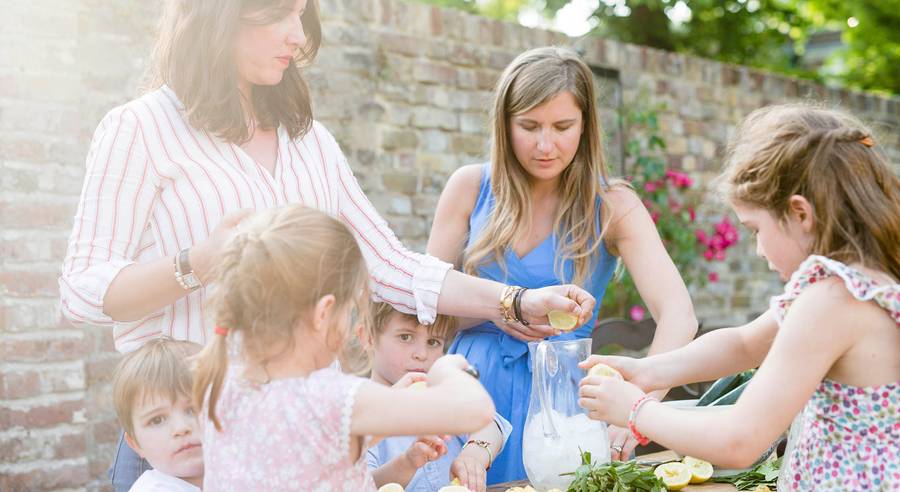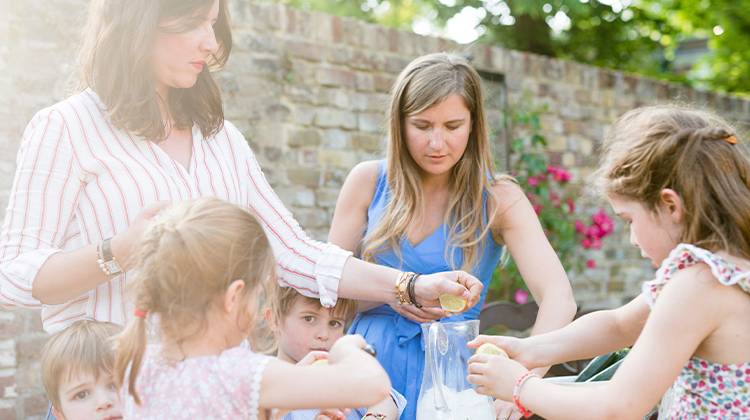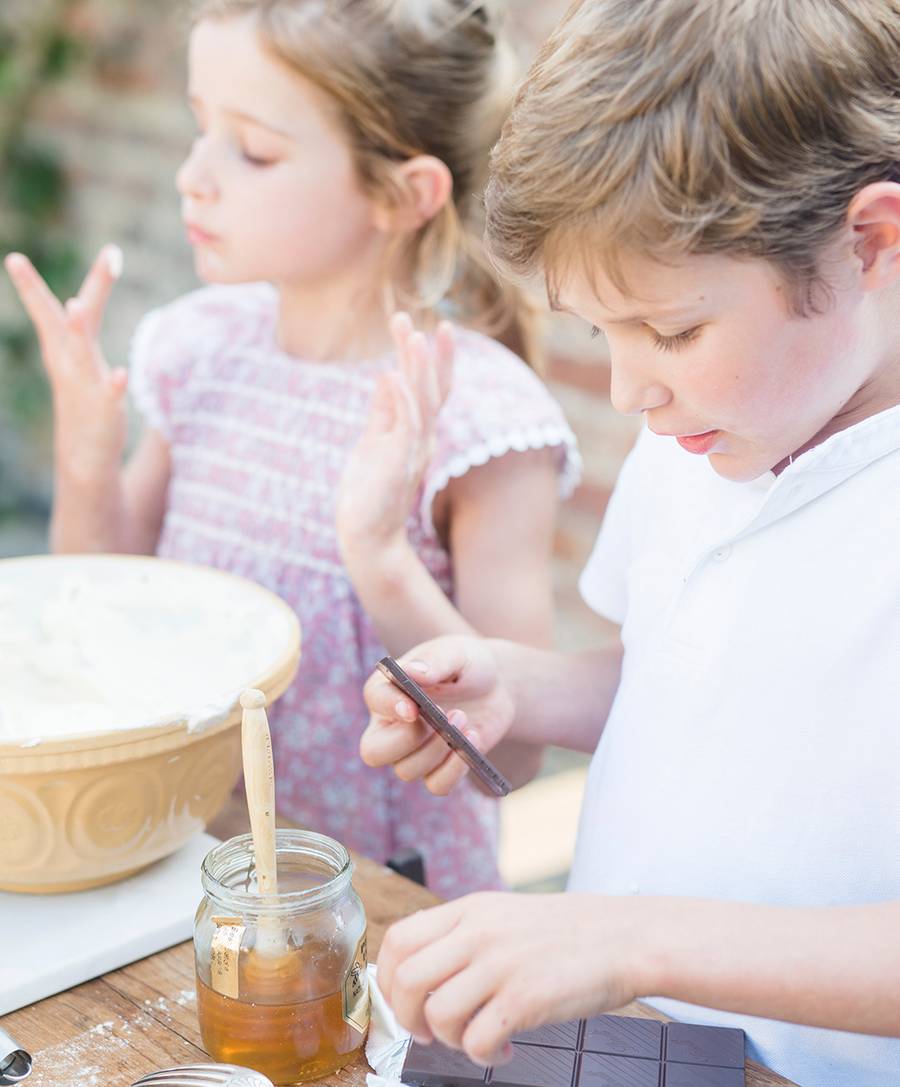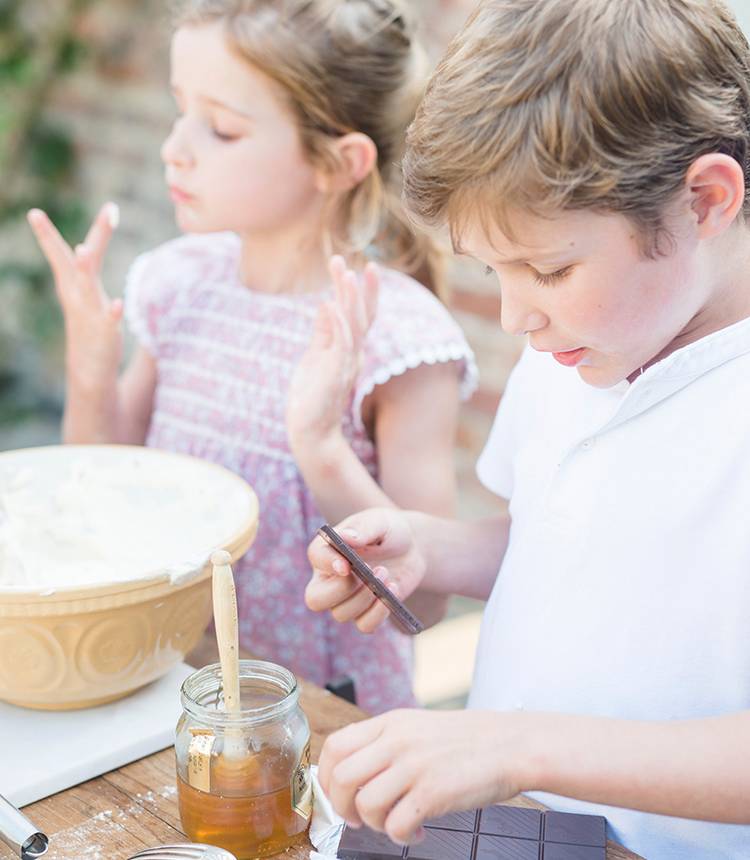 What are your fondest memories of cooking from your own childhood? Are there any particular dishes or bakes that you loved?
S: There is a flourless chocolate cake that my mother used to make for me every year for my birthday. Honestly - it is far and away the best chocolate cake I have ever eaten. She would make three cakes, then layer them with chocolate buttercream icing and decorate the whole thing with brightly coloured smarties. These days I still make that same cake, but I serve it plain, dusted with a little icing sugar and with a dollop of rosemary whipped cream on the side. That's the 'grown-up' version!

C: While I was growing up my father was the one doing all the cooking at home. I remember preparing dishes for the whole family with my father…I also remember having to clean it all as he got it all very messy! Lemon tart and chicken with tomato and almond sauce were my absolute favourites.
Skye, can you tell us about the recipes you have chosen to cook on the day?
S: The zucchine and tomato tart is a go-to recipe of mine - it's the kind of thing that I will toss together for lunch or supper at the last minute. It's a great thing to make with children, because I find they really enjoy rolling out the pastry and they can let their imaginations run wild when it comes to arranging the slices of tomato and zucchine in the tin. It's really fun to see the patterns they come up with. Lemonade is a wonderfully refreshing summer drink - and it's so simple to make, the children can do it all themselves. As for the ice cream - again it is a very simple recipe, but it is also one of Aeneas' favourite things to eat so I thought it would be fun for him to try make it too.
Celia, how did the partnership come about?
C: Skye and I are very close friends. We met through our work and we have so much in common that we always try to find angles that allow us to work together again and again. Amongst other things we share, we are both mothers of young children and Skye suggested cooking with my children and her little boy, which I thought was a superb idea and so much fun! Through the cooking we wanted to share how enjoyable this activity can be with your own children, as long as you have the time, which that afternoon we did.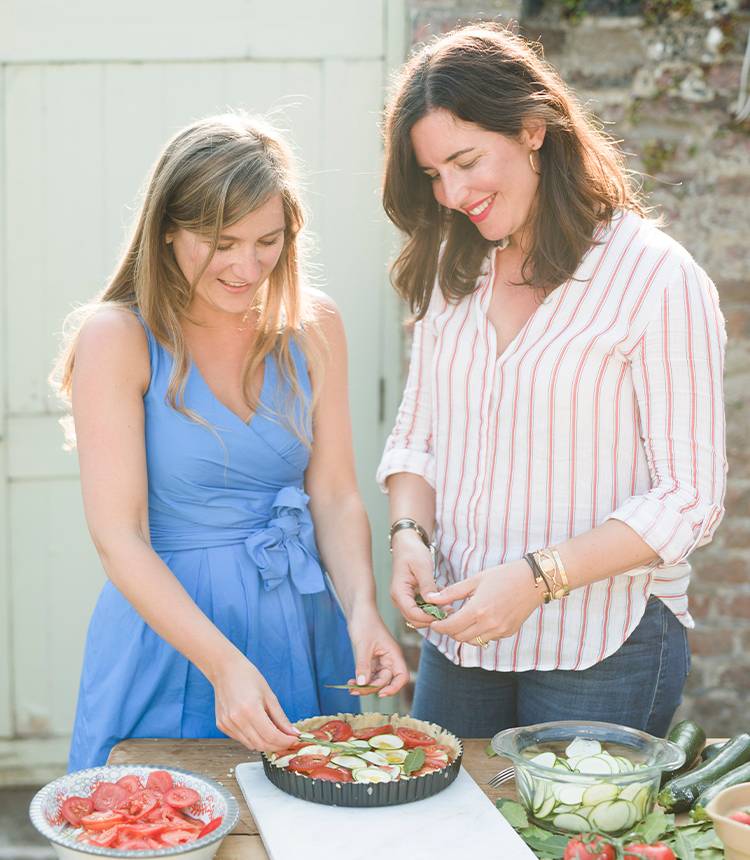 Skye, Celia you are both very creative women, what have you learnt from each other and what do you admire in each other?
S: I am always in awe of how seamlessly and gracefully Celia balances the demands of a full-time, creative career with being a wonderful hands-on mamma to her five children. She makes everything seem possible and is a huge inspiration for me.

C: There are so many things I like about my friend Skye. I admire her talent and sense of reinvention, as she's a great example of someone creating something beautiful out of a real passion and never giving up. I love her character and the fact that she's always willing to help everyone and listen. Skye is just a great friend with many talents…food happens to be just one of them.
Where do you both get your inspiration from in your lines of work?
S: A lot of the inspiration for my recipes comes from my collection of cookbooks - both old and new, many out of print editions, written in Venetian dialect, which I have found in second hand bookshops. A lot of the food I cook is inspired by the flavours of Venice, the city where I grew up and where I still spend much of each year now - simple, fresh and rustic Italian food is what I grew up with and still now it's my comfort food.
C: My main source of inspiration are my children whom I try everything that I create on and my customers who guide my thoughts. I am quite commercial so in a way although things that I see around me are a great source of inspiration I always try to bring pieces that my customers are going to love as much as my own children.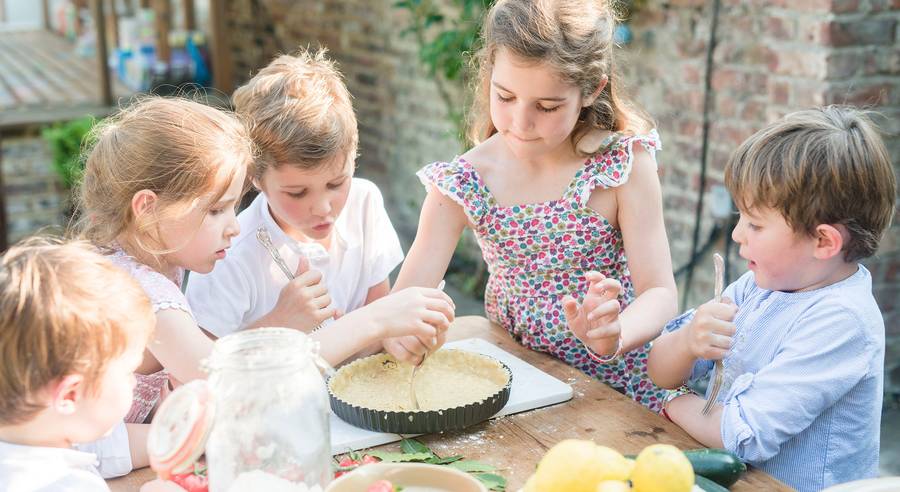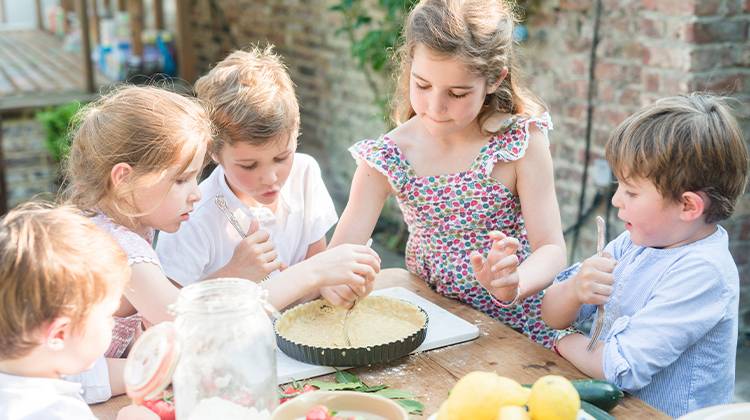 Follow Skye
@skye_mcalpine
on IG for delicious recipes and easy ideas to enjoy cooking at home.
Thank you Lesley Colvin for such beautiful images of the day.
Share this article
Share